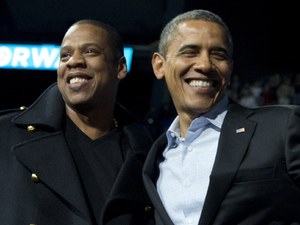 Jay Z
and
Beyonce
took a
trip to Cuba
during their wedding anniversary earlier this month (April 4) which immediately sparked an uproar due to tourism being banned in Cuba. This in turn inspired Jay to release a record in their defense (well sorta but not really) '
Open Letter
' in which he taunts as if President Obama in fact green lit the trip.
Fast forward to now, while having a serious sit down with
Savannah Guthrie
of NBC's
TODAY
show on April 17
President Barack Obama
found himself
denying any
involvement in Jay Z and Beyonce's trip to Cuba.
'We've got better things to do.' - President Obama
The White House denied any involvement from the jump, does this mean from now on every interview the President agrees to he will be asked this question again and again? Or coming straight from the mouth of the President of the Unites States is enough now?