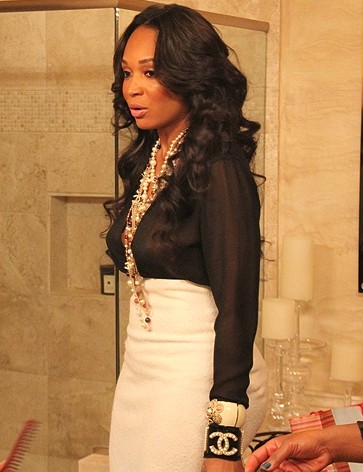 The most infamous friend of a friend at the moment is
Marlo Hampton
who regularly appears on Bravo's
The Real Housewives of Atlanta
. The fashion bombshell is known for liking luxurious/couture clothing and merchandise yet no one knows what the
diva
does for a living.
Marlo herself has dished a bit here and there on how she
USE TO
make ends meet but never has she gone into full detail on how she gets her dough now...until yesterday.
Marlo took to her personal blog,
Musings from the Boudoir
, to break it down so it can forever be broken.
I know Divas and Divos, my Marlo Mondays post is late, but better late than never right?

This week's topic is "How do I get my money?"

First, let me say that this is the question posed to me most frequently and it is without a doubt the most rude and inappropriate query I receive. It's asked by fans, foes, haters and... because inquiring minds feel they have a right to know.
If I have my way, this will be the last and final time I have to address this subject and hopefully we'll put this subject to rest.
Here are several little known facts about Miss Marlo:
1. I am not only a convicted felon. I am also a college graduate of the University of South Florida.

2. I was the owner of a successful boutique for 5 years.

3. I've been a private stylist for longer than that (and yes, I have references).

4. As a reality personality, I am booked for event appearances all the time and yes, they do pay well.

5. I was in a long term relationship with a billionaire who thankfully taught me well about how to make money and more importantly, how to keep it!
Now, before you judge me about my past relationship, I am grateful for his generosity and the knowledge he shared so a diva could stand on her own if and when the time came.
Understand, I'm not rich by any stretch of the imagination. And ya'll know this diva loves beautiful, expensive things. But... I also know how to stretch a dollar and find a bargain. I can make a Walmart dress and Payless shoes look like Haute Couture!
I never hate on anyone else's fortune, so I hope I can just live in peace from this point forward. The diva works HARD for her money! You get yours because I'm going to keep working to get mine.
Til next week!
Muah...
Although Marlo's explanation seems kinda late I'm quite sure she is responding to
Wendy Williams
who yesterday questioned what Marlo did for her money all while suggesting Marlo be added to the
RHOA
cast.
Check out the 21:00 mark
If Marlo were still in the fashion biz I would understand where most of her designer garbs came from but that's not her claim to fame at the moment nor is she wearing old duds sooooooooooooo I guess it's the fame paying her bills today.
I must agree with Wendy that Marlo deserves a peach!!