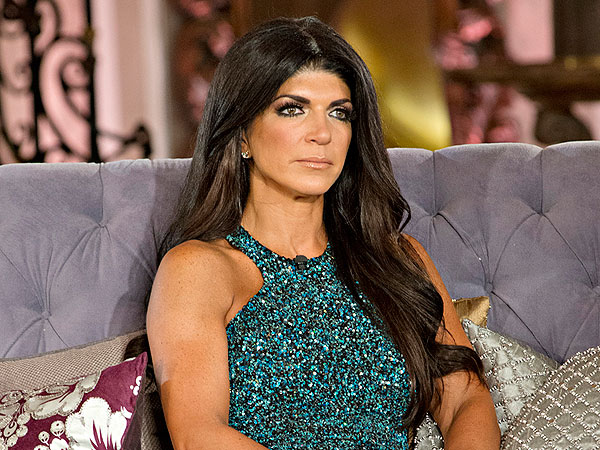 Teresa Guidice
for the next 15-months will reside in Danbury, Connecticut at the same prison
Lauryn Hill
served three months for tax evasion and where the series
Orange Is The New Black
is set. The reality star/business woman was set to turn herself in today to begin her sentence but arrived a bit early this morning sans Joe Giudice who took the girls to school this morning.
The

Real Housewives of New Jersey

star reported to the prison slightly a head of schedule, before 3 a.m. on Monday morning, to begin serving out her 15-month sentence for bankruptcy fraud. The hit reality show's longest-serving cast member left her Montville Township manse just after midnight with her attorney, James J. Leonard Jr., in tow. -

Source
Although I know Teresa and Joe have to do their time for the crime I simply feel for these two. Teresa moreso than Joe because I can relate as a mother. I couldn't imagine being away from my kid(s) to go to prison, my kid(s) seeing me in prison and just not being able to seem them as she normally would. She is expected however to begin her 12 monthly visits this weekend.
As far as how Teresa will hold up in federal prison...her attorney isn't concerned.
Leonard said Giudice prepared for her time behind bars by corresponding with recently released female prisoners from Federal Correctional Institution, Danbury. She was told to be "friendly but guarded" at the prison, and to savor moments with her family, Leonard said.

"They told her to keep her head up, that she would make it through," Leonard said.

-

Source
I'm wishing the Giudice's the best of luck in 2015...and I'm
hoping
Bravo really won't film
until my fav comes back to
The Real Housewives of New Jersey
in 2016. Joe will begin serving his 41-month sentence when Teresa returns in an effort for at least one parent to be with their girls while the other is serving time.
The Giudices attending church yesterday.