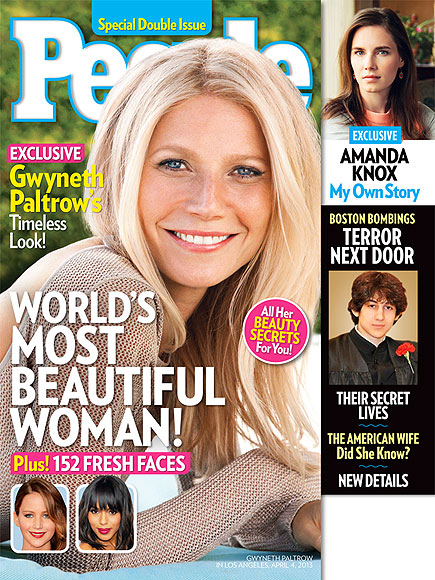 Not taking anything from
Gwyneth Paltrow
,
but how in the hell does People magazine come up with who's the most beautiful person to grace their cover each year? Just last week Gwyn was Star magazine's
Most Hated Celebrity
and now this honor...she must be thrilled!
People magazine editor
Larry Hackett
appeared on
Good Morning America
yesterday to reveal and explain why they chose their crowned beauty.
the magazine chose Paltrow because she's relatable as a wife and mother who balances personal life and her career. He also said she's family-oriented, grounded, close to her mother and looks great.
Source
Also making the list this year are
Halle Berry
,
Kerry Washington
,
Kelly Rowland
,
Jane Fonda
and
Jennifer Lawrence
among others.
Past cover toppers include Halle Berry,
Jennifer Lopez
,
Beyonce
and
Julia Roberts
...is Gwyneth with good company now?