Look at the
Reality Gawds
...
Erica Mena
and
Bow Wow
(can I write that) lawfully know n as
Shad Moss
made it to the pages of
People
magazine were the engaged couple talked about their life together. Including how the two not only share their home, hopefully, with Mena's young son but also Bow's own mother as well. Hmph...
While some 28-year-old guys might not be too crazy about still living with their mom,

Bow Wow

—who now goes by his given name Shad Moss—wouldn't have it any other way.




"It just makes sense," the actor tells PEOPLE of the 8-bedroom Atlanta mansion he shares with

fiancée Erica Mena, 28, and his mother Teresa Caldwell. "First of all the house is too big, but I want to make sure my mom is comfortable forever."So even when Moss proposed to the Love and Hip Hop star last September, he already knew where the couple would settle down.
"I remember when I first moved to Atlanta and Jermaine Dupree had the same situation," he recalls. "He took part of the house and his mom had the whole rest of it. I said then that I wanted to have the same set up."
Now, while Moss and Mena have taken over the remodeled basement, Caldwell resides on the main level and second floor.
"It's like I have a condo downstairs," says Moss, who splits his time between Atlanta and L.A. to film CSI: Cyber. "I've had 100 people there and my mom has been asleep and has never heard the music, screaming, laughter, or drinking. I mean full blown house parties downstairs while she is in the bed asleep. So I'm staying right here."
Even though all three live under the same roof, it's easy to miss one another in the spacious digs.
"There's times where I'll be down there for three days and we don't see each other so it's like I'm out of town even when I'm here," he says adding one perk of being so close to mom: "I don't have to get in the car and drive anywhere to see her. I just come up the stairs and say, "What up, Mom.'
Now
the title of this interview was "
Why Shad 'Bow Wow' Moss Still Lives With his Mom
"...ponder on that. But the way Moss states things it seems a little understandable until he states he got this idea from
Jermaine Dupri
and set out to do this years ago.
Nah. I am willing to bet he wasn't living with his mom when
she
AND he were on the
up and up
. This sounds like he moved in the home he initially bought as a young rapper and THEN moved back in. I'm not judging the living situation just the explanation. If you're going to sugar coat it why tell it?
Who's idea was it to say "hey, we need to report on where Bow Wow and his fiance are living!!"? Doubt it! Let's wait on the wedding special...let's say summer? I'd say when '
Love& Hip Hop Atlanta'
nears it's seasons end we'll get a trailer.
Also, it looks like People are fans of the Moss' having just featured their engagement photos back in
February
.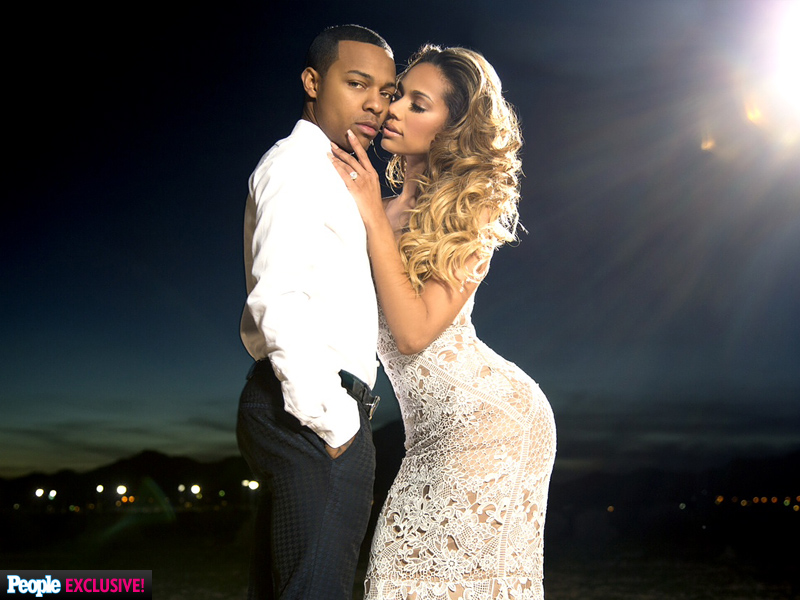 I wonder if he offered Jermaine Dupri a wing of the house considering his recent
issues
...